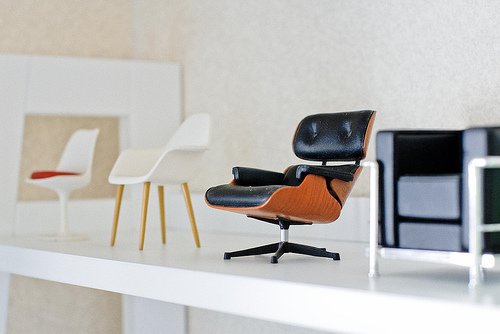 "my collection", recently submitted to our Mid-Century, Modern Group by yuki.s.
Each handmade Vitra miniature is a classic in the history of furniture design reduced in size at a scale of 1:6. True to the original pieces in structure and materials, the miniatures are precision-crafted, making them a thoughtful gift for a furniture lover or design professional. Each miniature comes handsomely packaged in a wood box with an informational booklet.
Get Vitra miniatures from DWR, retromodern.com, hive modern, and the Vitra Design Museum who uses them as teaching tools:
The Miniatures of the Vitra Design Museum are exemplary teaching objects with regard to quality and craftsmanship, and also iconic manifestations of the Museum Collection. They not only fulfil the financial purpose of contributing to the Museum's budget, but also serve as ideal demonstration pieces within the context of academic studies or skilled trades.
See below for more photos from proud Vitra Miniture owners.
Thanks to jukka, Shawn Wall, s u z a, and yuik.s for their excellent photography. Click any image to see the original.